Their Success is Our Success
Each year, RESPECT of Florida honors employees with disabilities who work diligently to produce RESPECT commodities and/or services. Awards are given for Commodities Employee of the Year, Services Employee of the Year, Most Improved Employee of the Year, and Rookie of the Year.

Each of the nominees are guests of honor at the Annual Awards Luncheon. The celebratory occasion formally recognizes all the nominees for a job well done, and for the category award winners, it is also an opportunity to be recognized for exceeding their employer's expectations. The nominees not only benefit from this very special sense of achievement, it is also a significant high point for the nominee's family members and caregivers.

The recognition process celebrates employment achievement - which is truly at the heart of the missions of both RESPECT of Florida and its partner Employment Centers. The goal is to celebrate employees with disabilities who have genuinely made significant progress towards independence, and who have demonstrated success in their employment and relationships with others. Congratulations to our 2019 winners!

2019 Commodities Employee of the Year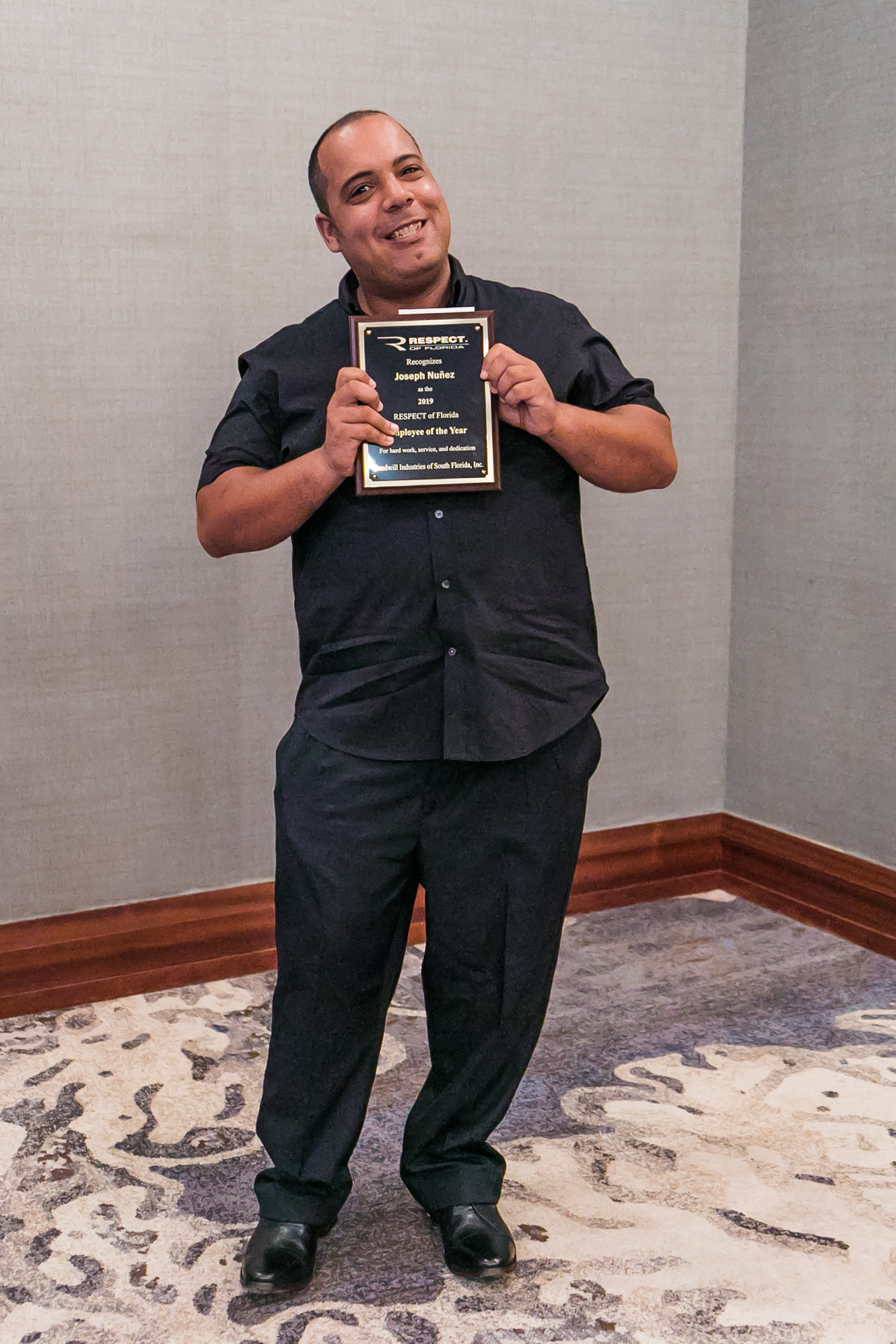 Joseph Nunez has been working with RESPECT partner Goodwill Industries of South Florida for more than eight years. When he first came to Goodwill, he had limited work experience and needed additional supervision to assist him in completing his tasks. He worked with the Goodwill Work Adjustment program and received daily training and counseling. He started working in the Flag Department in 2011 and was promoted to Material Handler in 2017.
2019 Services Employee of the Year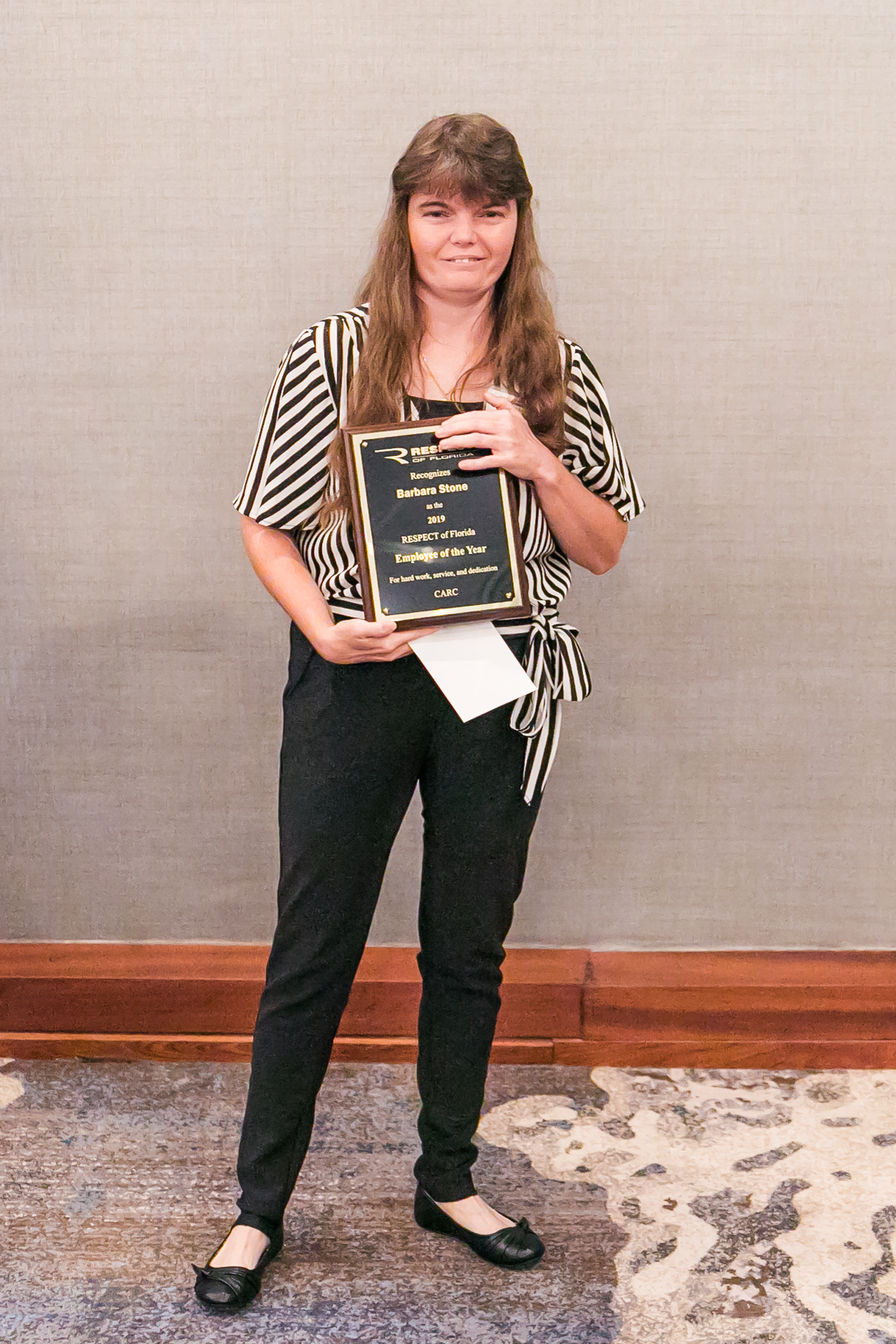 When Barbara Stone first visited RESPECT partner CARC in 2016, she was only interested in working at a fast food restaurant. She had previous work experience in that industry and felt comfortable in that environment. Eventually, the CARC Operations Director convinced her to try a position at the Baker Rest Area in janitorial services. Working on this RESPECT contract helped Barbara achieve her goals. She wanted to be able to manage her own affairs, and she was able to make that happen, in part, by her job through CARC. Since joining, the Baker Rest Area crew she has been able to do things on her own, including driving on the interstate, which she was scared to do before her job. She recently purchased her own car and even drove her mom and boyfriend to Daytona Beach for her first beach trip! She has found success in her position and the ability to keep growing both professionally and personally.
2019 Most Improved Employee of the Year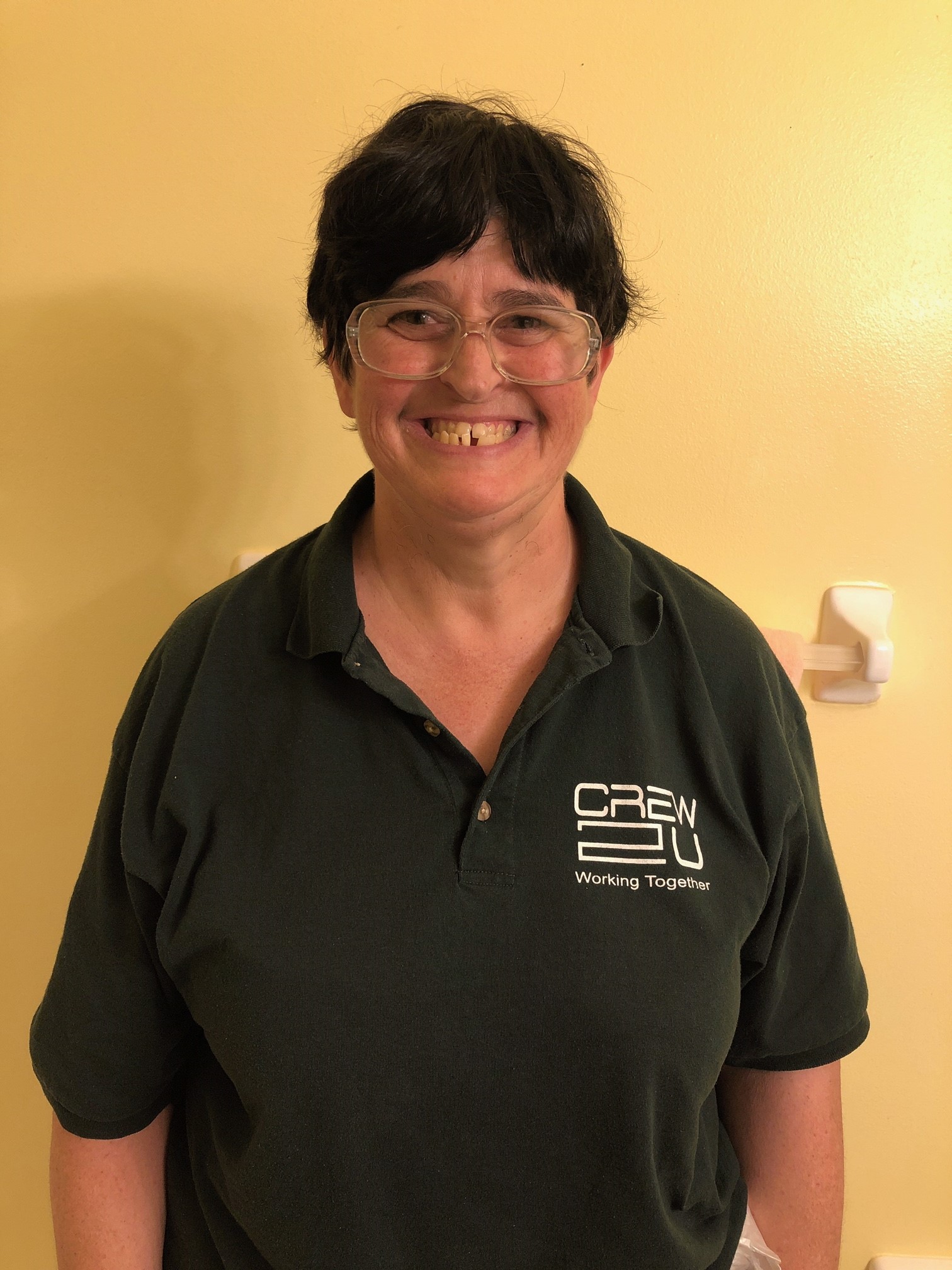 When Cynthia Griffin first started working at RESPECT partner Palm Beach Habilitation Center, she was quiet and reserved. She was a great team-player, but still needed extra help to see all her tasks through. After she received some additional training, she relies less and less on her supervisor?s assistance. Her communication skills have begun to flourish, as well, which has enabled her to approach her supervisors when she is ready for new tasks. Cynthia is eager to learn and takes constructive criticism as learning opportunities. She is a cheerful, friendly, and dependable employee.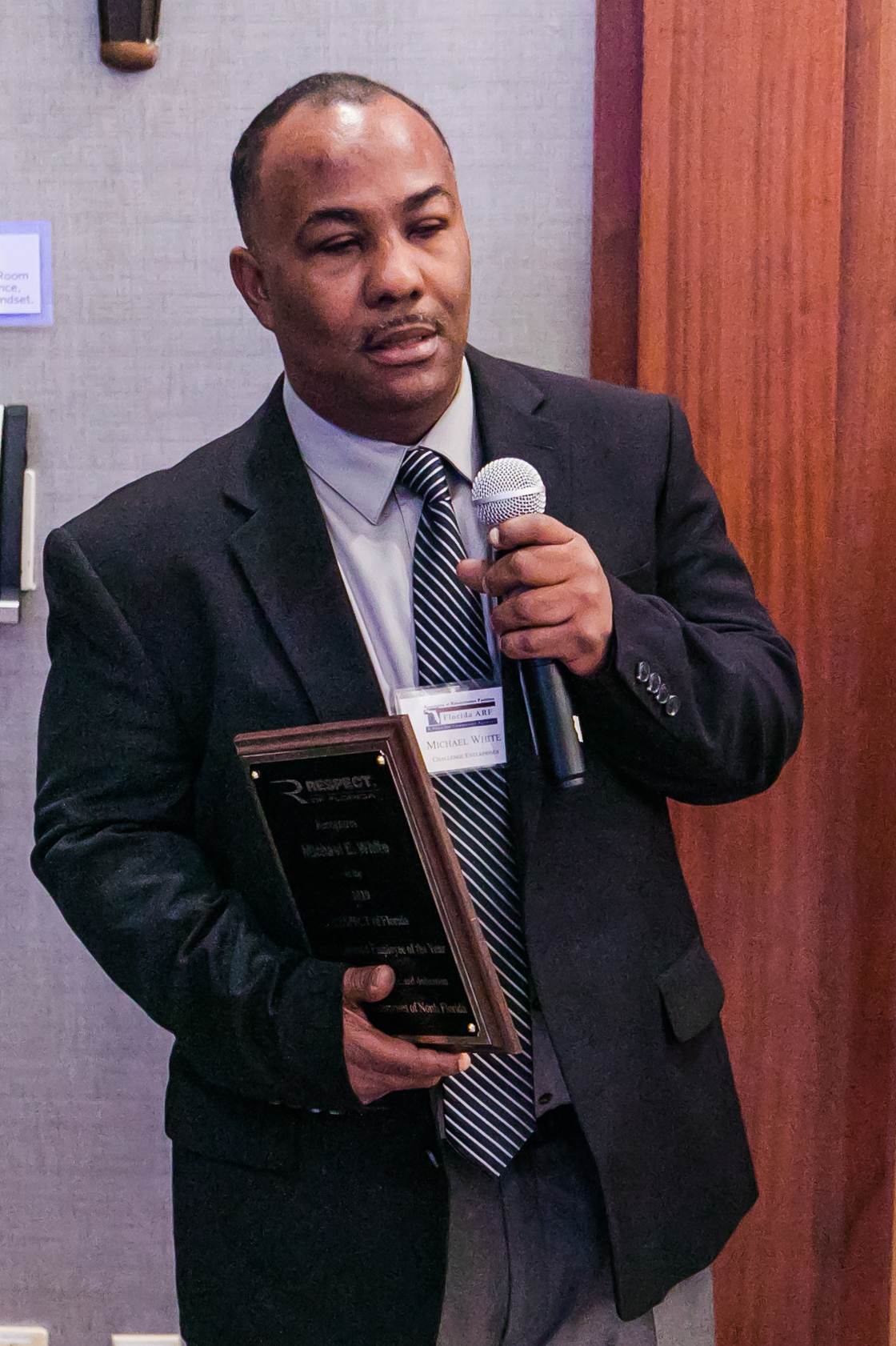 When Michael White was first referred to RESPECT partner Challenge Enterprises, he had no work experience in the janitorial field. Because of his work ethic, fortitude, and motivation he has become a stand out employee and team member on the Cecil Field janitorial crew. He continues to seek additional responsibilities when presented with the opportunity. Not only is he willing to work hard to ensure successful contract fulfillment, he is also an outgoing, cheerful, and humorous team member.
2019 Rookie of the Year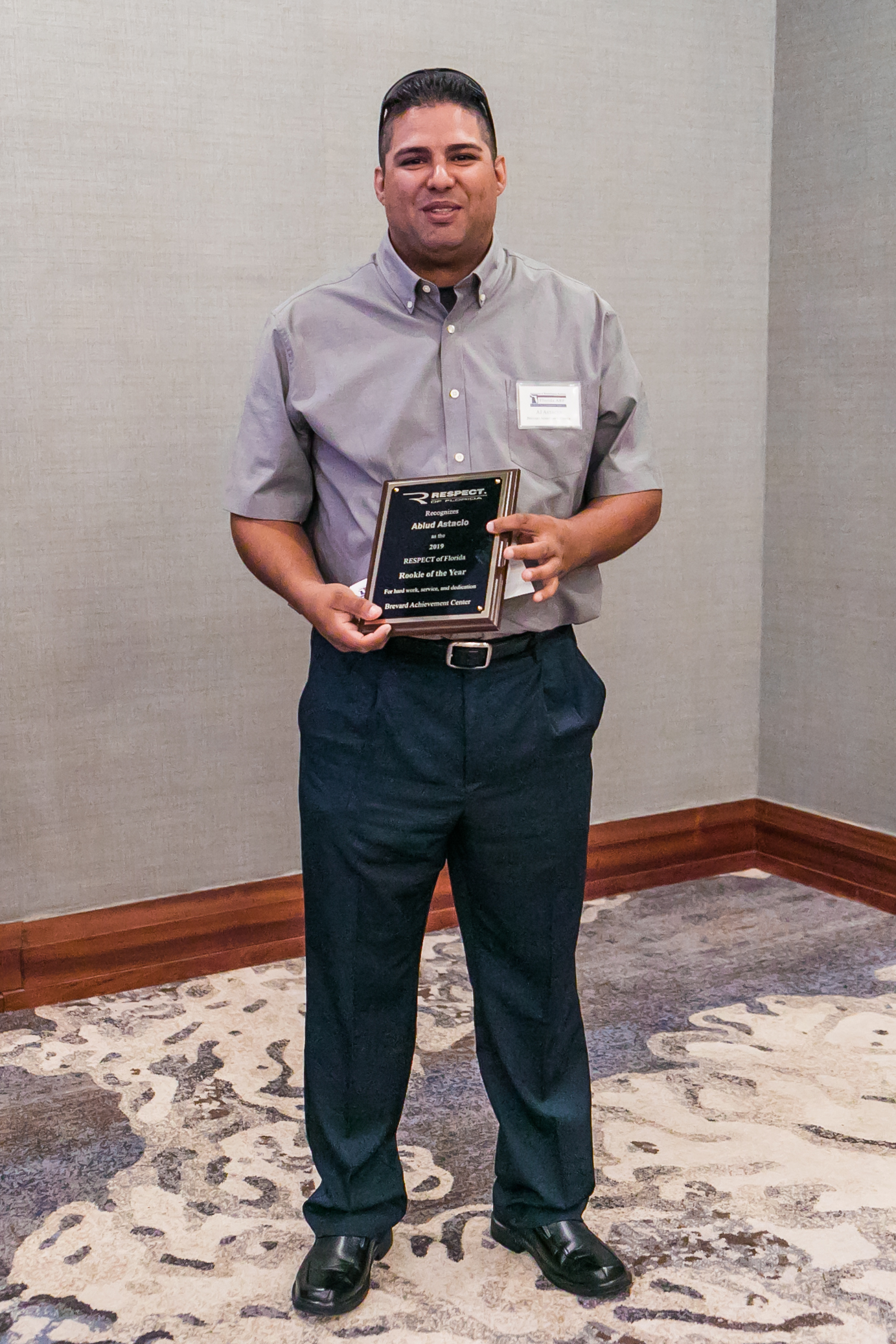 AJ Astacio works on a RESPECT janitorial rest area contract with partner agency Brevard Achievement Center (BAC). AJ is the first to volunteer and assist with special projects. He is reliable and thorough. AJ has exceptional leadership qualities including helping a co-worker manage his stress at work. AJ was placed on the same shift as the other employee and through AJ?s helpful and supportive nature, he helped his co-worker adopt a fresh, positive outlook while at work. The change in his co-worker was so dramatic that everyone on the crew noticed. Douglas Gasperak of BAC stated, ?There is no other employee that could surpass AJ?s willingness and ability to step up to the plate.? Working on this contract has given AJ the work he desires and also gives him the work-life balance he had been seeking.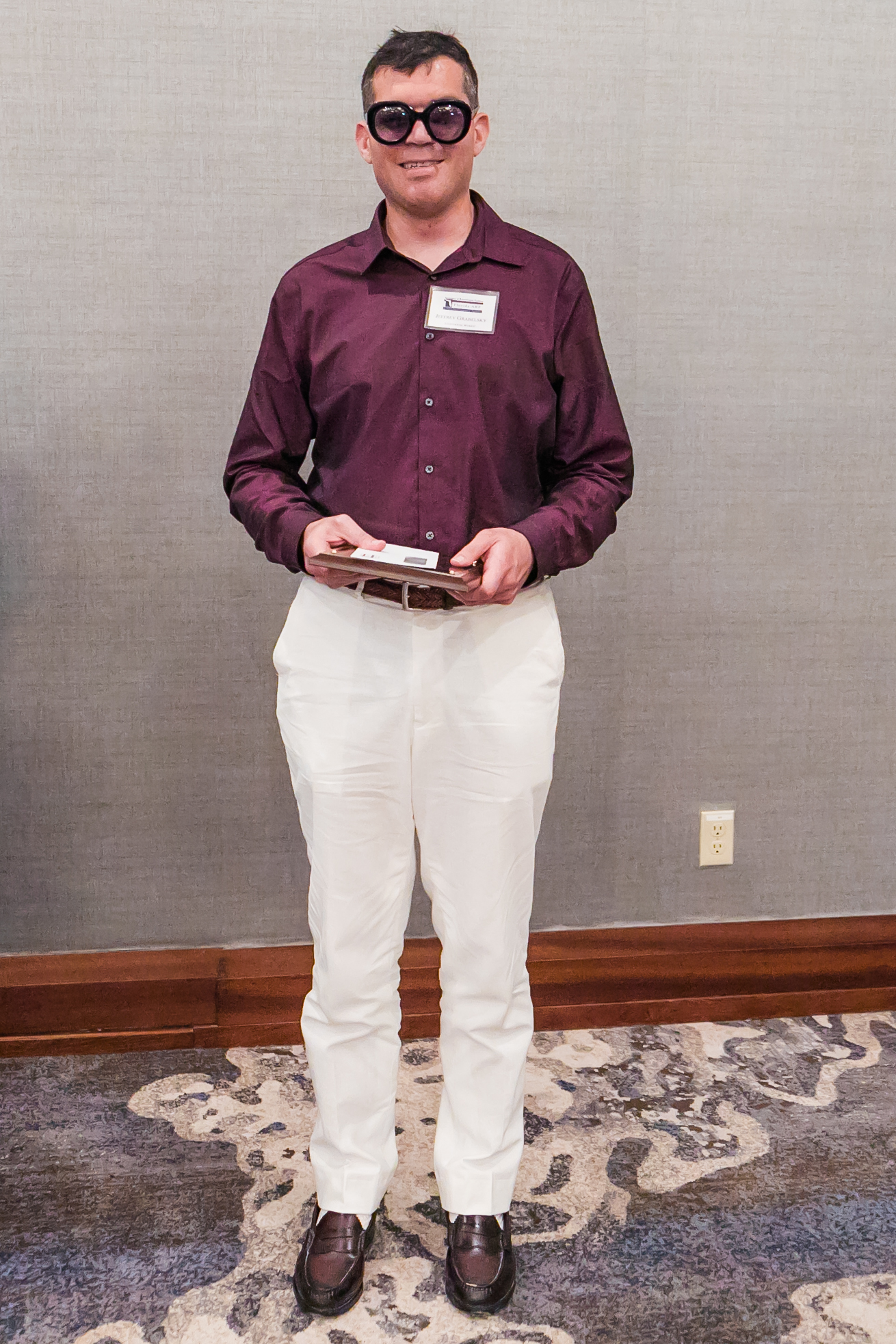 Jeffrey Grabelsky had been unemployed for awhile due to vision loss. He interviewed at RESPECT partner Lighthouse Central Florida and staff could tell he would be a good fit for their culture. He was hired as a Customer Care Professional. Jeffrey finished the challenging five-week training and began taking calls. He had to work very hard at first to navigate his duties, but he is now one of the best agents, receiving many accolades and some of the highest scores on his calls. Jeffrey is good at motivating others and giving team mates much needed words of encouragement.
2019 Outstanding Employees
Deborah Cassell, Brevard Achievement Center
Michelle Demaree, Brevard Achievement Center
David Jones, Brevard Achievement Center
Lisa Wills, Louise Graham Regeneration Center
Dorothy Campbell, Pine Castle
Carol Davis, Lighthouse Works!
Tyler Gower, Brevard Achievement Center
Patrick Makin, Brevard Achievement Center
Anthony Prater, Brevard Achievement Center
Antonio Reese, Gulfstream Goodwill Industries
Andrew Torres, Brevard Achievement Center
Katerine Wilson, Brevard Achievement Center
Dana Ford, PARC
Joe Hodges, Lighthouse Works!
Israel Martinez, Pine Castle
Alicia Morris, Brevard Achievement Center
Jessica Wilson, Pine Castle
Michael Banno, Brevard Achievement Center
Rebecca Barrineau, GCE
John Bunday, Gulfstream Goodwill Industries
Jasen Ferguson, Brevard Achievement Center
Jonah Hawter, Brevard Achievement Center
Charles Henderson, The Arc of the Bay
Derrick Love, Jr., Seagull Services
Michelle Luke, Palm Beach Habilitation Center
Cynthia Riles, GARC
Sophia Saintvil, Lighthouse Works!
Joseph Steever, SMA Healthcare
Donald Tarleton, SMA Healthcare
Dennis Todd, The Arc Gateway
Micro-Enterprise Grant for Self-Employment
To honor the entrepreneurial spirit, RESPECT annually awards at least one $12,500 Micro-Enterprise Grant to a Floridian with a disability to start or enhance their own business. The grant opportunity is generally released in July through RESPECT's partner network and awarded in August.
Previous Grant Winners
2019 - Ellie Brown, Brady's Biscuits
2019 - Eric Matos, Eric's Wood Crafts
2018 - Steven Graham, Steven By Design
2017 - Tiffany Roper, The Plant Princess
2017 - Eddie Rodriguez, Ybor Eddie's Hot Sauce
2016 - Thaddeus Wilkins, Oceanspray Photography
2015 - Jeff Shell, Jeff's Corner Garden
2015 - Moira Rossi, Moira's Ventures